Inaugural Workshop on the
Philosophy of Games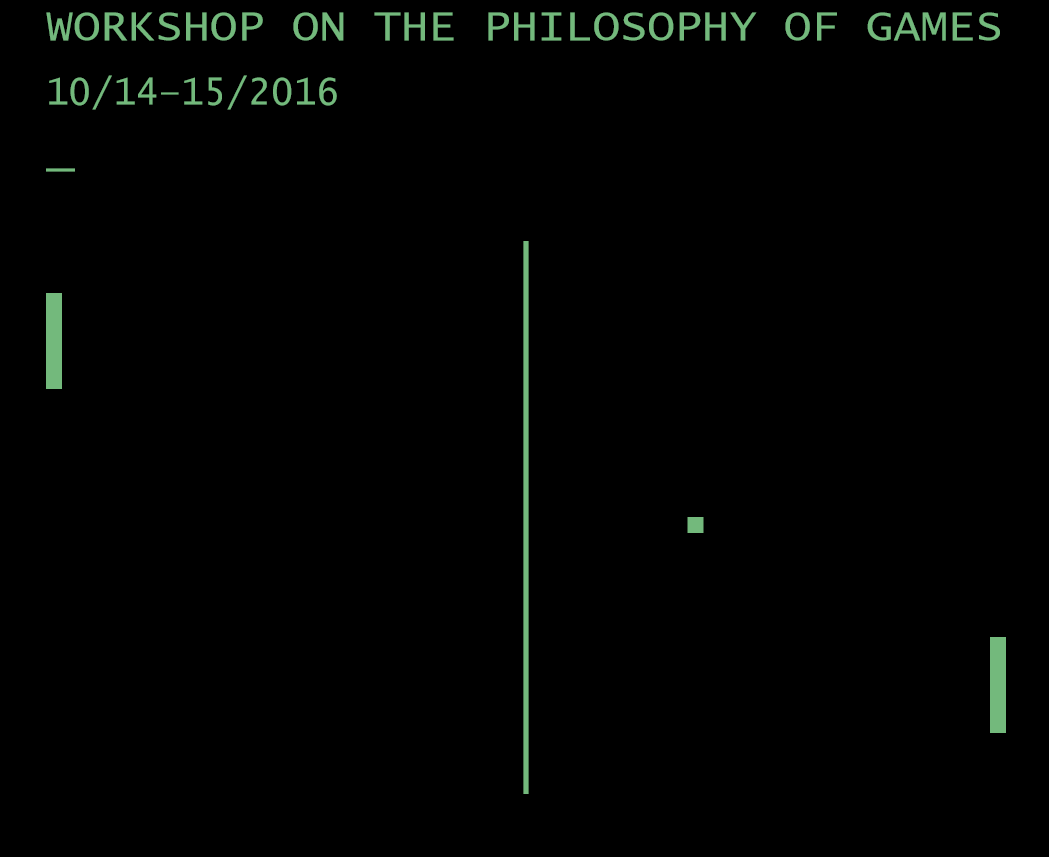 Inaugural Workshop on the Philosophy of Games
October 14 & 15, 2016

Sponsored by Utah Valley University, the American Society of Aesthetics, and the University of Utah
Come to a major American gathering of philosophers working on topics in games, including the value of games, whether games are art, and whether games are evil...

Games are growing in cultural weight and importance. There are many philosophical questions that can and have been raised about games: What are games? What is their value? Can games be artworks, or possess aesthetic value? Are there ethical issues that arise with gameplay?
Previous discussion on these topics have tended to be splintered among a number of different fields, including computer game studies, the philosophy of art, and the philosophy of sports. This conference will unite scholars from all these areas. Topics will include: the nature of play, the art-status of video games, the nature of gamification, and whether playing games could plausibly help fill out the notion of a good life. Attendance is free, but please pre-register by e-mailing philosophyofgamesworkshop@gmail.com.
Conference Organizers:
C. Thi Nguyen and Brock Rough
Many thanks to the advisory committee:
Andrew Kania, Jerrold Levinson, Christy Mag Uidhir, Stephanie Partridge, Nick Riggle, Mark Silcox and Grant Tavinor
Schedule
Utah Valley University - CB 510
(Oquirrh Mountain North Hosting Room)
10:00am
An Analysis of Caillois' Classification of Games Ivan Davidov, comments by Thi Nguyen
11:00am
Videogames and Imaginative Identification, Stephanie Patridge, comments by Christopher Bartel
Noon Lunch break
2:00pm
Kantian Aspects Francisco Javier Lopez Frias, comments by Mariam Thalos
3:00pm
The Compatibility of Artworks and Games Daniel Conrad, comments by Brock Rough
4:00pm
Ontology and Transmedial Games Christopher Bartel, comments by Stephanie Patridge
The University of Utah - CTIHB 459
(Philosophy Department Tanner Library)
10:00am
Gamification and the Lusory Attitude Michael Goerger, comments by Bill Morgan
11:00am
The Game is a Lie: Video Games as Algorithmic Works Shelby Moser, comments by Christopher Yorke
Noon Lunch break
2:00pm
Endless Summer: What Kinds of Games Will Suits' Utopians Play Christopher Yorke, comments by Shaquan Foster
3:00pm
Why Gamers are not Performers Andrew Kania, comments by Zach Jurgensen